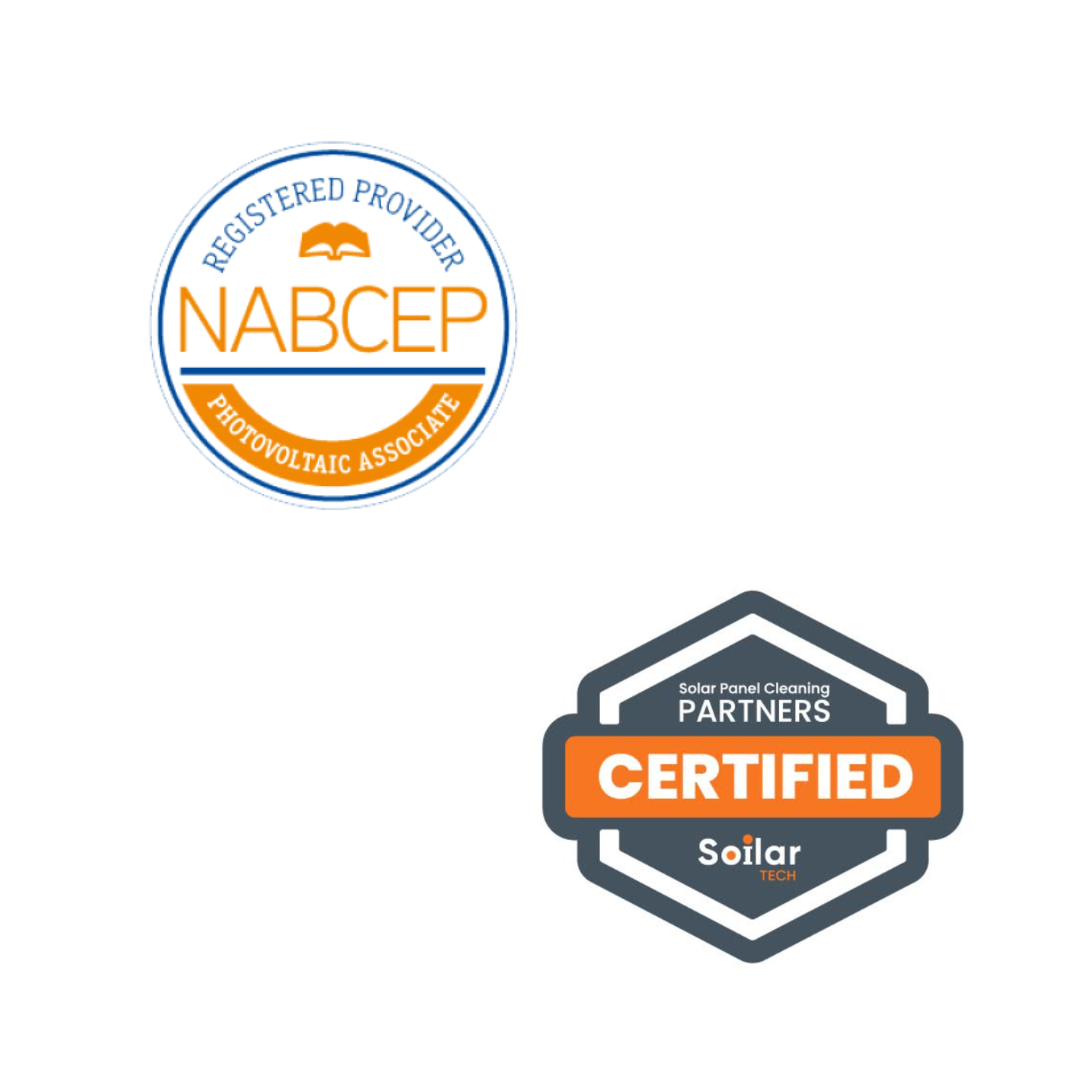 Soilar.tech's online training program counts towards the training requirements for taking the NABCEP Associate and professional certification exams.
The courses are available to qualify for the following NABCEP recertification's:
PV Associate (PVA)
PV Installation Professional (PVIP)
PV Design Specialist (PVDS)
PV Commissioning & Maintenance Specialist Certification (PVCMS)

Bundle Course Outline
Core Concepts

 Introduction (14:45) 
 About Us (22:46) 
 Core Concepts (4:12) 
 Drivers (6:13) 
 Worldwide Solar Panel Cleaning Market Size (4:11) 
 Industry Segmentation (8:43) 


Solar Panel Cleaning - Utility-Scale, Commercial & Industrial
 Marketing & Lead Generation (8:55) 
 Complementary Services (5:55) 
 13 Steps in Solar Panel Cleaning (35:27) 
 Business License (4:27) 
 Insurance Policies (14:15) 
 Contracts (13:50) 
 Equipment & Robotics (37:35) 
 Dry Cleaning Solar Panel Cleaning Machinery and Robots (19:36) 
 Solar Panel Cleaning Machinery Costs 
 Solar Panel Cleaning Machinery Pros & Cons (20:25) 
 Complementary Equipment (5:06) 
 Estimating Costs, Quoting, and Bidding (31:51) 
 Safety 
 Solar Installation Types 
 Agrivoltaics & Solar Panel Cleaning (4:17) 
 PV Coatings 
 Performance Loss & Quantify the loss due to PV SOILING (6:14) 
 How are solar panel cleaning events being determined? (5:33) 
 DO NOT ... 
PV Surfaces

 Core Concepts (4:16) 
 PV windows 
 PV Facades 
 1st Nailable PV Shingle 
Introduction to NextGen PV soiling mitigation
 Introduction to NextGen PV Soiling Mitigation (0:59)
 Why Should PV Soiling Mitigation begin in the design phase? (3:55)
Closing Statements
 Solar Panel Cleaning Industry Dictionary & Nomenclature
Closing Statements (3:57)

Safety by Expert Safety Services Course Outline
Introduction to Solar Panel Cleaning Safety (1:42)
Job Hazard Analysis (3:05)
Solar Cleaning Hazards - Part 1 (15:06)
Solar Cleaning Hazards - Part 2 (15:34)
Fall Protection (13:06)
 Conclusion (2:42)
Solar Panel & PV Surface Cleaning - Core Concepts
Frequently Asked Questions
Can I get a refund if I'm unhappy with my purchase?
If you are unsatisfied with your bundle, reach out to us to see if your purchase is eligible for a refund.